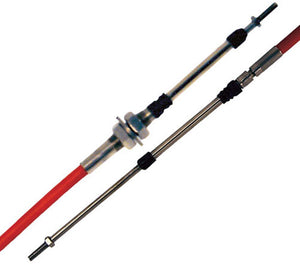 4300BC Bulkhead Cable Maxflex Extreme (Forward/Reverse or Manual Place Diverter)
Part Number: 620-46008
4300BC Bulkhead Maxflex Extreme
Also commonly referred as the 43BC Cable. This cable is typically used for the Forward/Reverse controls of a Jet Boat. Also used for a manually controlled Place Diverter Trim Nozzle.
These extremely heavy duty cables are recommended for heavy use and high operating loads The cables use all of our latest technology, from the acetal liner to their high density jacket Even the bulk head versions use an all stainless steel bulkhead and hardware. High Density Jacket Housing is 0.43" (11mm) Diameter. Replaces Morse 38013-000 cables
Type 43C have 1/4-28 threaded ends. 
---
We Also Recommend